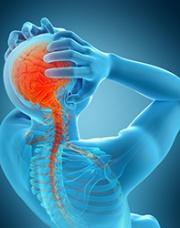 © SEBASTIAN KAULITZKI/ STOCK.ADOBE.COM
Many migraine patients stop acute treatment despite ongoing symptoms
By Bianca Nogrady
A significant number of people with migraine stop taking acute prescription medications yet continue to experience significant disability from their condition.
In an article published in Headache, US researchers reported the outcomes of a longitudinal internet-based survey of 13,624 individuals with migraine, 4840 (35.5%) of whom had ever used acute prescription medications to manage their symptoms.
The industry-funded study found that 1719 (35.5%) of these ever-users had discontinued their use of acute prescription medication. Among this group, 11% reported experiencing 15 days or more of headache each month, 7.9% experienced 10 to 14 days, 18.7% experienced five to nine days and 62.4% experienced zero to four days.
Most of these discontinued users had stopped seeing a doctor for their headaches in the previous 12 months, despite 41.7% reporting moderate to severe disability from their condition. Only one in five said they were able to work or function normally with a headache.
The most common reason for individuals stopping their acute prescription medication was to switch to nonprescription medication, but 28.2% of respondents attributed their actions to concerns about the medication's efficacy and 24.9% said it was because of tolerability concerns.
Nearly half of the respondents who said they stopped taking their medication because of efficacy or tolerability concerns were still experiencing moderate to severe disability from migraine.
Commenting on the findings, migraine specialist and neurologist Dr Nicole Limberg said adherence and noncompliance were issues both with migraine prophylaxis and acute prescription medication, often because of side effects and efficacy concerns.
'If they're taking something and they're not seeing the real-time benefit, it's going to lead to them not taking the drug, especially if the tablet is making them feel worse,' said Dr Limberg, Director of Migraine Specialist clinic in Brisbane.
Noting that a significant number of participants who stopped taking acute medications also stopped seeing a doctor for treatment, Dr Limberg stressed that it was important to manage patient expectations from treatment, and to try different types of triptans or other acute medications if they did not respond to one type.
'We don't want these patients to be lost to follow up and out of the medical mainstream pathway; you want to keep them engaged so they don't lose hope,' she told Pain Management Today.
Headache 2019; 59: 1762-1772.